our address:
Heilstätte Harzgerode
Freie Feldlage 9
06493 Harzgerode
Beginning from Thursday 11am you can call us if you got questions regarding the arrival!
The LosGeht`s 2020 site is located in and next to a former hospital about 2 km away from the little town of Harzgerode in the south-eastern part of the Harz-mountains in Sachsen-Anhalt. It is surrounded by the natural reserves close to the Selke-valley. Next bigger cities are Halle/ Saale at about 65km, Magdeburg at about 80km and Quedlinburg at about 20km.
Please note:
accessibility on the Freie Feldlage area is not given in all parts of the site! If you need assistance, please tell us at the reception desk!
the former hospital area consists of a big park, meadows and gardens and also includes several buildings that are NOT open to the public! Please respect all restricted areas!
Getting there by train and bus:
the closest railway station (DB) is Quedlinburg. From there, take a bus to Harzgerode; this route is served hourly during the week in between 6:35h and 18:35h but much less frequent on weekends. The ride takes about 45 min.
Alternatively, you can go to Aschersleben by DB and from there take a 1,5-hour busride to Harzgerode via Gernrode. These busses leave once an hour in between 5:44h and 17:44.
The name of the bus stop is
Harzgerode Bahnhof
(to get actual informations on trains and connecting busses, please check DB-homepage!)
The following map shows 2 possibilities to reach the LosGeht`s site (here named Kinderklinik/ Kinderheilstätte) as a pedestrian from Harzgerode Bahnhof (bus stop):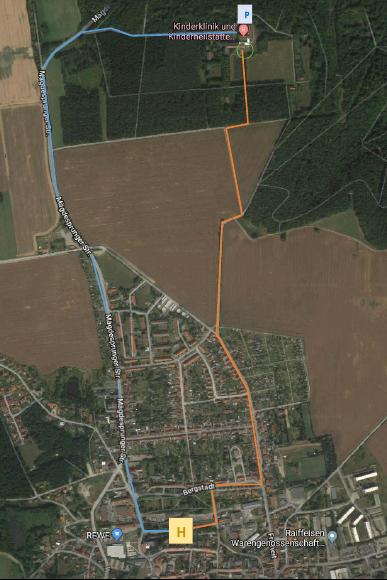 blue: follow the main road (Mägdesprünger Straße) until the road becomes a 1-lane-road, shortly before it does: turn right and walk until you reach the complex of big buildings of the former hospital.
orange: this path passes Schützenplatz and then follows a small gravel road up to the forest, passing by some apple trees. It is much more beautiful than the blue path, but it is a little more complicated!
Getting there by car or hitchhiking:
There are several major roads circling the Harz-mountain area: A36 up north, A38 down south and A7 a little further away to the west and A14 towards the east. It is advisable to take A36 to Quedlinburg and then continue to Harzgerode via Gernrode.
In general, it is not known to be a problem to do hitchhiking in the Harz-region during the daytime – but do be careful at nighthours.
For more information on hitchhiking in general, check Hitchwiki.
Accomodation
LosGehts 2020 will be a low budget camp. That means that you need to bring your own tent, there will be a nice campground at the site. If you travel by caravan or in your private bus, please tell us ahead because the parking space for these vehicles is limited! If you have special needs concerning accomodation (e.g. for health reasons), please tell us ahead as well:
orgateam@losgehts.eu
Toilets and showers
There will be several compost toilets and outdoor showers. Most of them will be all-gender, some of them will be reserved for women*, lesbians*, trans* and inter* because these groups of persons are highly affected by sexual discimination and sexualized violence and therefore need safe spaces. These facilities are marked f*l*t*i* and are to be respected! For further information on heteronormativity, queerness or non-binary identities please check the internet or talk to the awareness team!
Unfortunately, we can only provide few facilities with easy access. That means, that these will be all-gender. Please be aware of the persons next to you, respect their needs and in case: talk to each other!